In the Lone Star state, Texan Chili purists insist that chili has no beans. Any beef stew meat will work in this dish: top or bottom round, rump roast, or chuck.
Yield: 8 servings (serving size: about 1 cup chili, 1 tablespoon sour cream, and 1 tablespoon onion)

Ingredients
Cooking spray
2 pounds beef stew meat
1/2 teaspoon kosher sa
1/2 teaspoon cracked black pepper
3 cups chopped onion
1 tablespoon cumin seeds
3 tablespoons finely chopped jalapeño pepper
6 garlic cloves, minced
1 cup dry red wine
1/4 cup white vinegar
2 tablespoons chili powder
2 tablespoons dried oregano
1 (14 1/4-ounce) can low-salt beef broth
1 (12-ounce) can beer
1/2 cup chopped fresh cilantro
1/2 cup chopped onion
1/2 cup fat-free sour cream
Preparation
Heat a large Dutch oven coated with cooking spray over medium-high heat. Sprinkle beef with salt and pepper. Place half of beef in pan; cook 8 minutes or until browned. Remove from pan. Repeat procedure with remaining beef; remove from pan.
Add 3 cups onion to pan; sauté 5 minutes or until lightly browned. Add cumin, jalapeño, and garlic; sauté 1 minute. Add wine, scraping pan to loosen browned bits. Return beef to pan.
Stir in vinegar and next 4 ingredients (vinegar through
beer); bring to a boil. Cover, reduce heat, and simmer 1 1/2 hours or until beef is tender, stirring occasionally. Uncover and simmer 1 hour, stirring occasionally. Stir in cilantro. Serve with onion and sour cream.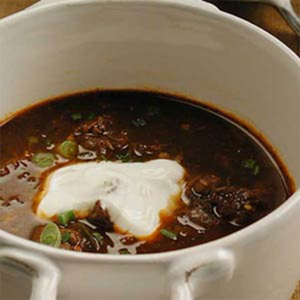 Nutritional Information
Calories: 268 (30% from fat)
Fat: 9g (sat 3.3g,mono 3.7g,poly 0.6g)
Protein: 25.1g
Carbohydrate: 13.8g
Fiber: 2.7g
Cholesterol: 72mg
Iron: 4.3mg
Sodium: 218mg
Calcium: 85mg