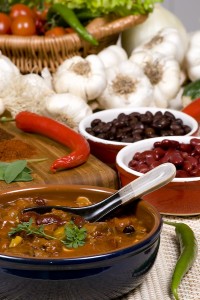 While excellent versions of chili are available all over the United States, the dish has the strongest ties to Texas, where it has been declared the Official State Dish by the legislature. The Oxford Companion to American Food "Chili as
we know it originated in the American Southwest, most likely in the region that became the state of Texas," according to the book. Culinary historians think that chili began as a peasant dish prepared by poor people using cheap, inferior cuts of meat cooked together with other inexpensive, readily available ingredients, primarily peppers and onions. Chili had begun spreading to other parts of the U.S. by the late 1800s, and by the 1920s, "chili parlors" or "chili joints" ("small, inexpensive, hole-in-the-wall diners") were opening across the country. As the dish spread, the number of ingredients and variations grew as examples like Cinncinati Ohio and their popular take on three-way Chili.
Many of the recipes on our website contain the foundation for real Chili con Carne like ground Beef Chuck roast, onions, garlic, chili powder and other spices, tomato sauce, and beans. Regarding the last ingredient, many experts' sources—including the founder of Chili Cooking.com would argue that true Texas chili has no beans, so feel free to omit them if you're a purist. In fact, why not use the basic techniques demonstrated by other Chef's here and tweak the ingredients to create your own recipe for the ultimate chili?
God Bless & Bon appétit,
Patrick Mullinix
Posted in
Chili News
by .
In memory of Donald Carrel "a real Chili eating man"

Ingredients:
3 lbs. lean beef chuck roast (chili grind)
5-6 tablespoons chili powder
2 tablespoons garlic powder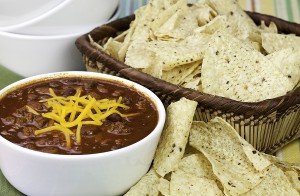 1 teaspoon black pepper
1 teaspoon white pepper
1 teaspoon salt
2 teaspoons cayenne pepper
2 tablespoons cumin
1 tablespoon Mexican oregano
2 15-oz. cans beef broth
1 12-oz. water
1 10-oz. can Rotel tomatoes
1 Large purple onion, chopped fine
1 16-oz. can Hunt's tomato sauce
1 beef bouillon cube
3-4 pieces of Hickory-smoked type thin bacon, cooked crisp, reserve grease
Directions:
After cooking bacon slices in your Dutch oven, remove bacon and set aside. On high heat, add chopped purple onion and cook until soft in bacon grease. Add beef chuck roast (chili grind) and brown thoroughly. Add the bacon, crumbled into fine pieces, into the mixture. Mix all dry ingredients together and add, then immediately follow with the remaining canned items and the water. Bring to a low- medium boil, uncovered, and cook for 1 ½ hours, stirring frequently.
 Add 2-3 tbsp. corn starch mixed with water to thicken. Cook this mixture until it reaches desired thickness. Add additional water if needed while cooking. Taste, then re-season with salt, black pepper and addition cayenne for more heat, if needed, until your eyes start to twitch or tear up.
This is best when prepared the day before, refrigerated overnight, and then brought back to piping hot right before serving. Serve with warm basket corn Tortillas chips. Garnish graded Cheddar and chopped fresh cilantro.
Ingredients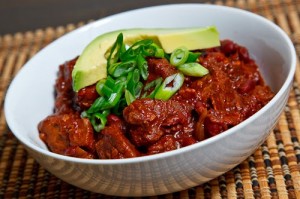 2 tablespoons dried oregano
2 tablespoons sweet paprika
2 tablespoons whole coriander
1 tablespoon cumin seed
3 tablespoon chili powder
3 tablespoons extra-virgin olive oil
2 onions, chopped
3 pounds beef chuck, cut into 1-inch cubes
Kosher salt and freshly ground black pepper
6 cloves garlic, chopped
1/2 canned chipotle chile, chopped
1/2 jalapeno pepper, chopped
1 (28-ounce) cans whole tomatoes, hand crushed
1 cinnamon stick
1 teaspoon sugar
2 tablespoons masa harina
1/2 tablet Mexican chocolate (about 1 1/2 ounces)
Grated queso fresco, for garnish
Green onion leaves, for garnish
Advocado wedges, for garnish
Directions
In a small dry skillet over low heat add the oregano, paprika, coriander, cumin, and chili powder. Cook until they begin to smell, about 2 minutes. Put the spices into a spice mill or food processor and grind until they are powdered. Set aside.
Heat a large heavy bottomed casserole over medium heat; add 3 tablespoons olive oil and the onions. Cook until the onions are soft and beginning to caramelize, about 10 minutes. Pat the beef dry and season it with salt and pepper. Add it to the pot and cook, stirring frequently, until it has browned on all sides, about 10 minutes. Add 2 tablespoons of the toasted spice mix, the garlic, chipotle, jalapeno, tomatoes, cinnamon stick, and sugar. Season with salt and stir well. Add some hot water until the meat is just covered with liquid. Return to the boil, reduce to a simmer, cover, and cook for 1 1/2 hours. Remove the meat and shred it with a fork. Return it to the pot, stir in the masa harina and chocolate, and cook for another 10 minutes, uncovered, to thicken. Taste and adjust seasoning. Serve with the queso fresco,chopped green onions, and lime for garnish
This is the perfect vegetarian chili recipe to serve at your next chili get together. Serve with grated cheese, onions, and tortilla chips for dipping.
Vegetarian Chili Ingredients:
3 Tablespoons olive oil
1 1/2 cups chopped onion
8 large garlic cloves, chopped
2 19 oz. cans red kidney beans
2 19 oz. cans dark red kidney beans
1 envelope taco seasoning or 1/4 cup taco seasoning
1 teaspoon dried basil
1/2 teaspoon dried oregano
1/2 teaspoon dried thyme
1 15oz can tomato sauce
3 cups chicken broth or vegetable broth
1 6oz can tomato paste
Vegetarian Chili Directions
Heat oil in heavy saucepan over medium-high heat. Add onions and garlic. Saute about 8 minutes or until onions are translucent. Add beans, taco seasoning, basil, oregano, and thyme. Stir 2 minutes. Mix in tomato sauce, chicken broth and tomato paste. Simmer until thickened to desired consistency, stirring occasionally to prevent sticking, about 1 and a half hours. Season to taste with salt and pepper. Refrigerate until cold then reheat over low when ready to serve.
For those of you who don't like the meat in your chili, this is the chili recipe for you. It's fast and easy to prepare. Serve with shredded cheddar cheese and chopped scallions.
Three

Bean Chili Recipe Ingredients
2 Tablespoons olive oil
2 medium onions, chopped
1 medium red pepper, chopped
1 medium green pepper, chopped
1 large jalapeno pepper (seeded, de-veined and chopped)
6 cloves garlic, minced
1 cup beer
2 16 oz. cans diced tomatoes
1 14 oz. can black beans
1 16 oz. can dark red kidney beans
1 tablespoon ground cumin
2 tablespoons chili powder
1 tablespoon hot pepper sauce
1 teaspoon salt
1 can vegetarian refried beans with chiles
Three Bean Chili Directions
In a large pot, add olive oil and warm over medium heat. Add onion, peppers, and garlic. Saute for 5 minutes or until softened. Add beer and stir well. Add tomatoes, black beans and kidney beans, stirring well to combine. Add cumin, chili powder, hot sauce and salt. Stir in refried beans to thicken chili. Reduce heat to low and simmer for 15 minutes.